VENDAVAL 8.9M & ZILLION TW HD
From now on… We'll be training and fishing together for quite some time.
Fishman "VENDAVAL 8.9M" &
BRIST VENDAVAL8.9M(ブリストベンダバール)| サーフや磯に最適、ishmanロッドの長距離砲。ベイトロッドでオーバー100mはもう夢ではない。
サーフや磯でのシーバス、オオニベ、ショア...

Fishman's standard rod for beginners and experts alike. It is a must buy.
Daiwa "ZILLION TW HD".
Unparalleled, excellent anti-backlash performance!



Fishman "Noriyuki Kanmiya" chooses … Trust me… A tool that continues to be used today.
(I believe there are many advantages that will help me grow as an immature person.)




I was skeptical at first, but the BENDAVAL 8.9M and ZILLION TW HD are a perfect match!
About ZILLION TW HD…
First of all, let me say that if you use a normal rod together with the "ZILLION TW HD", everyone will think that it is for power games with heavy lures, right?
Lighter lures don't fly as well, and you might think you're not good at it.



In my case…. From the beginning, I removed the stock MagForce HD1520 G1 spool and replaced it with an HLC (Hyper Long Cast G1) spool.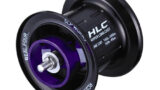 RCS ベイトキャスティング HLCスプール│SLP WORKS

High performance wide shallow spool made of lightweight and highly rigid G1 duralumin.
Wide Shalrows Pool!


(PE1.5 No. 200m) Wide Shalrow Pool!
Magforce Brakes
However… There is a great performance that is demonstrated when combined with a rod that is more powerful than expected.
Even the manufacturer who developed the Magforce brake did not intend for it to have such a surprising effect.
If you use "Strong Rod", which seems to be clearly over-spec ...
If you force yourself to spin the spool, you can .....
Even in bad conditions, always stable ... Full casting of the light plug is possible.
In the dark of night when the PE line is swept away by the wind and you can't see the lure landing on the water…
No backlash at all, even when the spool is stopped by summing after landing on the water!(Awesome!) )
Unlike "distance-oriented" spools, which require a lot of care for summing and preferably don't want to throw plugs, this spool has outstanding stability as if it is "held" until the end.
A reel like this! It doesn't exist anywhere and I've never seen anything like it before.
Lightweight, high rigidity G1 duralumin adopted, high performance anti-backlash spool.
No backlash anyway.
Tough structure that can be used by beginners and advanced users.
1. Beginners can take advantage of the "benefits of magforce brakes", avoid backlash and practice!

2. As your swing improves, the distance you fly will gradually increase, so it is a good indicator to measure the degree of improvement in your swing.

3. Advanced users can use light plugs to the fullest and develop their game.

4. It's as if I'm fishing with a spinning reel, a strange feeling!
How's that? Isn't that great?
A bait reel that doesn't fly is out of the question, but (maximum) distance isn't everything!
It reminded me again of something important: ….
Magforce needs a wide shallow spool too!
As with the HLC spool series, the RCSB HD1520 G1 spool (20lb-100m) can be combined with the shallow-groove RCSB HD1514 G1 spool (14lb-100m) (PE1.2 200m 20lb 70m) or the RCSB HD1516 G1 spool (16lb-100m) (PE1. 5 200m 20lb 80m) when they become available: ….
The total weight is further lighter,

 and the response and flight distance are greatly improved (in synergy with the sharo 

spool)!
For those of you who are familiar with ZILLION TW HD (cast practice, etc.), it is truly 

the best weapon.
And finally ..., sea bass anglers fighting in tough 

conditions, there are things that can not be ignored

 ... It should be.
I have already made a request, but if you agree, please call Daiwa. Best regards.
(It would be even more amazing if Caryl (Sawamura-san) would sell it to me: ……)
ベイト&タックル キャリル / 河口湖の釣具通販・エレキのメンテナンス
オリジナルアイテム「K.T.F.キャリルチューンドファクトリー」リール・エレキ、フェンウィックロッドなど、釣具の店頭販売及び全国通販・修理・メンテナンスを行う、ルアー(ブラックバス)フィッシングプロショップ。
Compatible with a variety of situations


Again… this really does have a wide range of uses in many situations!
HIRASUZUKI fishing in rough seas: …. and wading in rough, windy seas.
I'd like to get the plug to that spot, but the wind is blowing so badly that I'm in danger of backlash.
A situation where you have to cast a light plug a long way in pitch dark…
Of course… It's a good training for the my problems I encounter and I practice it repeatedly.

(My problem is that the plug spins and shakes due to casting issues, which reduces the distance and backlashes.)

But still… still…It's like "Plug Cast Yips"….


In order to overcome the shortcomings, first of all, it is necessary to use a light plug and practice throwing many times in agenst and a bad environment.
An excellent tool that can concentrate on practice with peace of mind is absolutely essential.



(If you can consistently throw light plugs with a bait reel… throwing other lures is even easier! )
Mr. Noriyuki Kanmiya


Oh no! If Kanmiya-san hadn't taught me, I would have never found out.


(Thank you for your continued support.)



He inputs overwhelming power and flies with experience and technique.
Challenge and accomplish what no one else will!
This is the true essence of Fishman. 
That's why he was the only one who noticed something that no one else had noticed before.

Once you get enough distance with the MagForce Spool, you can try the MagForce Z Spool (HLC Spool)!


※ The cast will be more stable and the distance will be longer than using HLC spools from the beginning.



My trial and error cast training will continue until the day I stop lure fishing.
Popular Blog Rankings