One night, I tried practicing with a big bait.
The rod I used was the MC Works WB109HR / B. (Sorry… it's obsolete.)
The reel is a CALCUTTA CONQUEST 301. (Magnet brake specification)
The line is SHIMANO MX4 and No.4, and the shock leader is 50LB.
The lure is Marujin UK Big Bait 160F.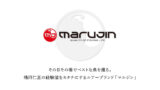 株式会社 マルジン 嶋田 仁正の経験値をカタチにするルアーブランド
嶋田仁正が製品開発、販売を行うルアーメーカー「株式会社マルジン」公式サイト。魚種を問わず、自身の経験値をそのまま製品として送り出す事を目標にしています。
This lure is the work of Shimano's Jinsei Shimada, and it flies well, swims attractively, and I can't say enough about it!
I've never seen a large plug that flies so effortlessly and without habit.
(It can also be used for surf fishing.)
WB109HR/B has powerful butt power to make lures fly undauntedly with resistance of plugs.
(Most lure rods flex too softly for me, as I am used to casting rods with CAST'IZM.)
The line is made of safe PE No.4, so you can rest assured that the line will not break even if you make a mistake…
One thing I failed to do was to do anything about adjusting the mag for CALCUTTA CONQUEST 301.
I had adjusted the lure for low air resistance lures such as metal jigs to get the maximum casting distance, so when I threw big plugs or big baits, the brakes were too weak…the line was floating all over the place!
I managed to keep casting, but the reeled line softened and I kept backlashing.
"Damn!" I thought, but I could identify the cause of the problem from my own experience, so I mumbled in my mind, "I guess I lost today," and quickly went home.
When I got home…I adjusted the magnets on my CALCUTA CONQUEST 301.
(I'm going to keep making adjustments to make it specialize in big plugs at medium and short distances.)
Since this model is not suitable for long distance casting (22mm wide spool), I think it is better to use it exclusively for big baits at medium to short distances (in terms of the reel's character and performance).
However, the 43mm diameter spool flies pretty well: ….
Fishing and Fishing Rankings